One of the most important aspects of working in public relations is staying up-to-date with the latest news and information. At PRSA Silicon Valley's Media Predicts event, PRSSA SJSU took a sneak peak behind the curtain of 2019 technology headlines.
The Media Predicts panel consisted of editors and technology journalists from top publications including:
Moderator
Panelists
The panelists offered insight on the competitive nature of Silicon Valley and made predictions for breaking tech-news stories and social issues in 2019 — specifically, the struggle for humanity in the midst of controversy. "This pipe dream we had of making the world a better place is not what the C-Suite want," said Tech Editor of ELLE, Jenna Blaha.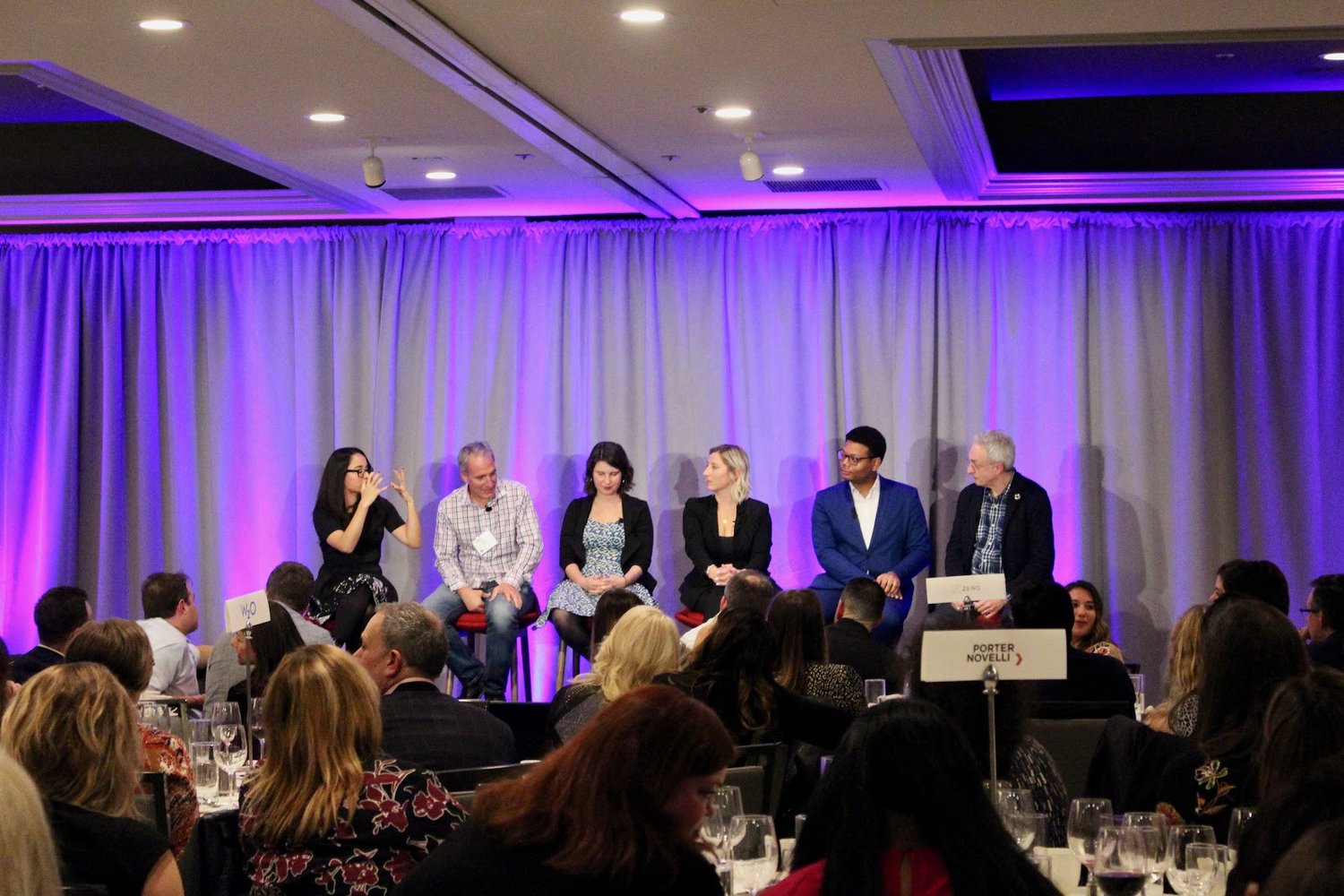 The recent controversies with CEOs Elon Musk and Mark Zuckerberg have put Silicon Valley in the crosshairs of Washington D.C.. "There's going to be a hard look to see if these companies have become the railroads of the 21st century," said AP Business/ Tech writer, Michael Liedtke. However, Bloomberg's Nico Grant expressed a lack of confidence in Congress' ability to reign in these monopolies.
"When Zuckerberg was on Capitol Hillthey had no idea how Facebook worked, or how they turn a profit or how they run their business," said Grant. Grant laughed recalling how Zuckerberg answered "Senator, we run ads" when asked about his business. The structure of these companies and their monopoly over different technology leaves the government with the difficult question, is it time to split these companies up? "I think the burden of proof is on the government,so none will be broken up," said Grant.
With Jeff Bezos taking over the the top spot for richest man on the planet, many of the panelist believe that Amazon's actions could have the biggest impact in 2019. "Amazon is taking over homes and they're not stopping, said D'OnforHe said that Amazon wants it all, acting likehey're Pac-Man The recent success of artificial assistants like Alexa or Google Home shows that while people value privacy, millions are willing to give it up in exchange for convenience and accessibility.
"Privacy is dead," said CNN Technology reporter, Ahiza Garcia. A report from TechCrunch found that 36 million Americans own a smart speaker. "We've put so much info out there and it's going to be hard to pull that back," Garcia said. A majority of those speakers are Amazon's Alexa, who takes residence in 11 percent of American homes.
Garcia also reminded the audience that while some companies avoid the spotlight, Nike's research showed customers want companies to take a stand on social issues — impacting their bottom line. For example, Nike's, "Just Do It" campaign with ex-NFL player Colin Kaepernick has trended on social media and received praise from stockholders.
While Garcia cannot officially advise on financial matters, she suggests to be careful with any investment or stock. "If you're young, you have more room for risk. If you're old, be more conservative," Garcia said.
For students entering the workforce, these topics and social issues need to be brought to the forefront of our conversations as they will directly impact our lives after graduation. In Silicon Valley, tech news is no longer limited to product exclusives or reviews of new gadgets. With technology shaping the world around us, it is our responsibility as public relations and mass communications students to stay informed and advocate for equity, accessibility, and transparency.